Thank you for choosing to CONTACT US!
We will strive to not only meet --
but exceed -- your expectations in every way.


PHOENIX SPECIALTY COATINGS
Where Your Parts Are Reborn
731-613-9192


Shop Telephone Hours
Monday-Friday 10:00 a.m. - 9:00 p.m. Central Time
(Please leave a message if you reach the machine!)

Shop Visitation Hours
By Appointment Only
---
Phone Hours

10 a.m. to 9 p.m. Central Time Daily

Extended Telephone Hours ...

Because you have questions while you surf the 'net after supper and on weekends looking for a qualified powder coating shop.




Email us at
PhoenixSpecialtyCoatings@yahoo.com
or fill out the Contact Form below


If you have already received a quote, please ship your parts and deposit to:

PHOENIX SPECIALTY COATINGS

157 Kimery Store Road

Greenfield, Tennessee 38230



We accept personal checks from our internet customers, as well as
U.S. Postal Service Money Orders, most major credit cards and Paypal!
Set an appointment to stop by if you'll be in the area!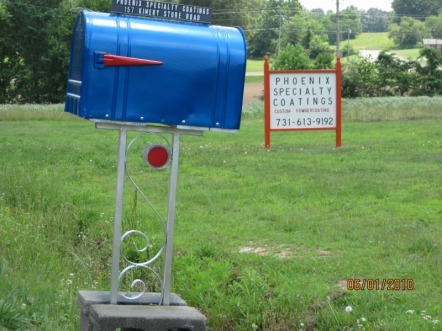 Look for our Viper Blue custom mailbox ... you can see it from Highway 45E!!!
Phone Hours 10 a.m. to 9 p.m.
PSC is conveniently located a half block west of Highway 45E / 445 (route to Big Cypress Tree State Natural Area) between Milan and Martin, Tennessee
... look for our custom Viper Blue mail box
---
Feel free to manhandle the samples ...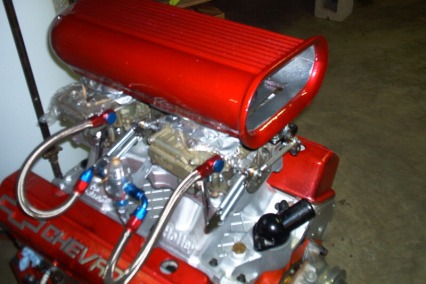 ... check out our personal hot rods and look over our display motors!
WE HAVE NOTHING TO HIDE!
---


Problems finding our shop?
Try the MAP!
We Look Forward to Hearing From You!
Problems with the website or
suggestions for improvement?
Please give us a call, or email Leanna the
webmistress
.
Copyright © 2006-2013, Phoenix Specialty Coatings

All rights reserved. Unauthorized use of any images, thumbnails, illustrations, descriptions, textual and/or editorial content herein without the express written permission of the owner is strictly prohibited. All violations will be prosecuted to the fullest extent of the law.