WELCOME TO OUR
GALLERY OF WORK SAMPLES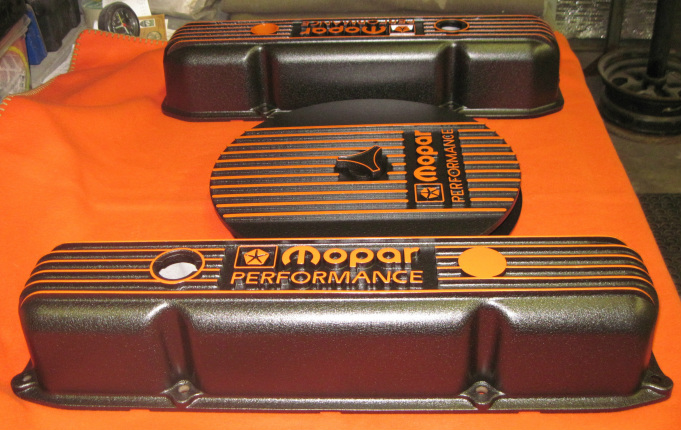 One-off custom Mopar Performance valve covers and air cleaner assembly in Hemi Orange and Wetstone Black
Our Work Samples are organized below ... scroll down to browse our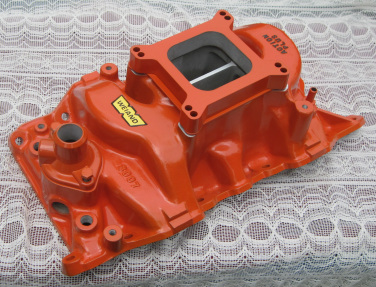 Automotive Parts

Motorcycle, Trike and Bicycle Parts

Miscellaneous Metals ~ All Other Metal Items
---

You'll soon discover that Phoenix Specialty Coatings is NOT
your "typical" powder coating shop ...
we're metal restorers too!
Unless we're otherwise instructed, no powder will be applied until
your metal is as close to perfect as possible first.



AUTOMOTIVE PARTS
ONE-OFF CUSTOMS ARE OUR SPECIALTY!


---

Click on any photo to enlarge it!

Mopar parts restorations --
especially Commando valve covers -- are a PSC specialty!!


Before ...

Click any photo to enlarge it!

Any qualified powder coater can spray your parts ...


Pontiac manifold on arrival

---

He said, "Are those really mine?"
I just grinned and said YES!!!

PSC takes on select trim restoration and polishing jobs too!

... and After!!!


Be sure to save us in your Favorites!!

These guys shared your same concerns ... and then shared their comments!

---


Thanks for noticing! Yes, we ARE Mopar specialists
with an emphasis on custom one-off work regardless of the manufacturer.
From affordable factory-style restorations to your wildest dreams,
PSC is the only reasonable choice for custom powder coating and metal restoration anywhere.
You've seen the REST ... Now contact the BEST!!!
731-613-9192
Phone Hours 10 a.m. - 9 p.m. central time



The other auto parts pictured below are some of our past work taken with a really awful 2.3 mp digital camera. Full details such as those captioned above and dozens of additional photos are shown on our extensive Photobucket Work Samples Gallery.
Click HERE to Enter.


MOTORCYCLE, TRIKE AND BICYCLE PARTS
Are you ready for a quote on your own parts?
Call 731-613-9192 or email us today!

MISCELLANEOUS METALS
All Other Restored / Powder Coated Metal Items
Still want to see more? Browse our entire work sample album -- hundreds of photos! -- by clicking HERE
Copyright © 2006-2013, Phoenix Specialty Coatings

All rights reserved. Unauthorized use of any images, thumbnails, illustrations, descriptions, textual and/or editorial content herein without the express written permission of the owner is strictly prohibited. All violations will be prosecuted to the fullest extent of the law.